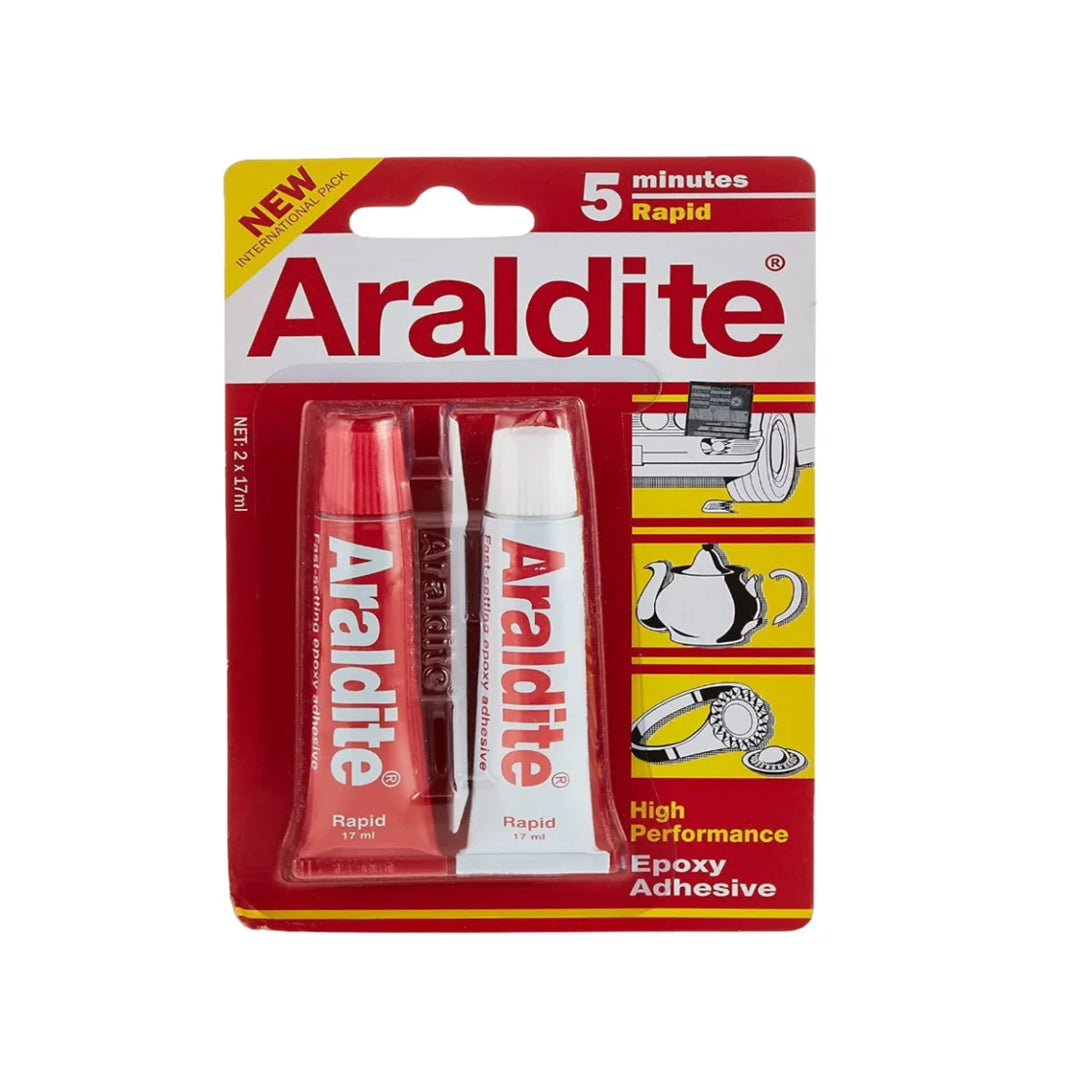 Araldite Rapid Epoxy Adhesive 17ml, 5 min - Red
Cash On Delivery
7 Days Returnable
15+ Years Of Trust
15+ Branches
Description
Specifications
Reviews
Description
Specifications
Reviews
Araldite Rapid Epoxy Adhesive is a two-part adhesive that is designed to bond a wide range of materials, including metal, wood, glass, ceramics, and many plastics. It is a fast-curing adhesive that sets in just five minutes, making it ideal for applications where a quick bond is required.

This particular version of Araldite Rapid Epoxy Adhesive glue comes in a 17ml tube and has a red color. The red color can be useful for applications where color contrast is desired or to identify the location of the adhesive after it has been applied.

To use this Adhesive glue, you will need to mix equal parts of the resin and hardener together. The mixed adhesive can then be applied to the surfaces to be bonded, and the parts can be held in place until the adhesive sets. It is important to follow the manufacturer's instructions carefully when using this adhesive, as the curing time and bond strength can be affected by factors such as temperature and the materials being bonded.

Overall, Araldite Rapid Epoxy Adhesive is a versatile and fast-curing adhesive that can be used for a variety of bonding applications, including automotive repairs, household repairs, and DIY projects.

Features

It hardens quickly at room temperature 18 - 24

°

C.
Allows fast but durable assembly and repair work. It hardens slowly at a temperature of up to 5°C.
Apply on a clean and dry surface.
It covers a wide range of applications and offers both production and performance benefits for industrial, consumer, and hardware stores.
Durable and solvent-free, it creates super-strong, water-resistant bonds that can be painted or sanded.
Super strong, gap-filling epoxy adhesive for home, shop, industry, and repair
Waterproof and chemical resistant
Bonds most materials, especially: metal, wood, glass, ceramics, rigid plastics, and concrete
Ideal for small assemblies or repairs.
Glued joints can be worked after 2 hours.
Brand : Araldite

Type : Epoxy Adhesive

Compatible material : Wood, Glass, Ceramic, Plastic, Concrete, Metal

Material : Epoxy Resin

Package Information : Tube

Weight : 17ml each

Quantity : 2 tubes