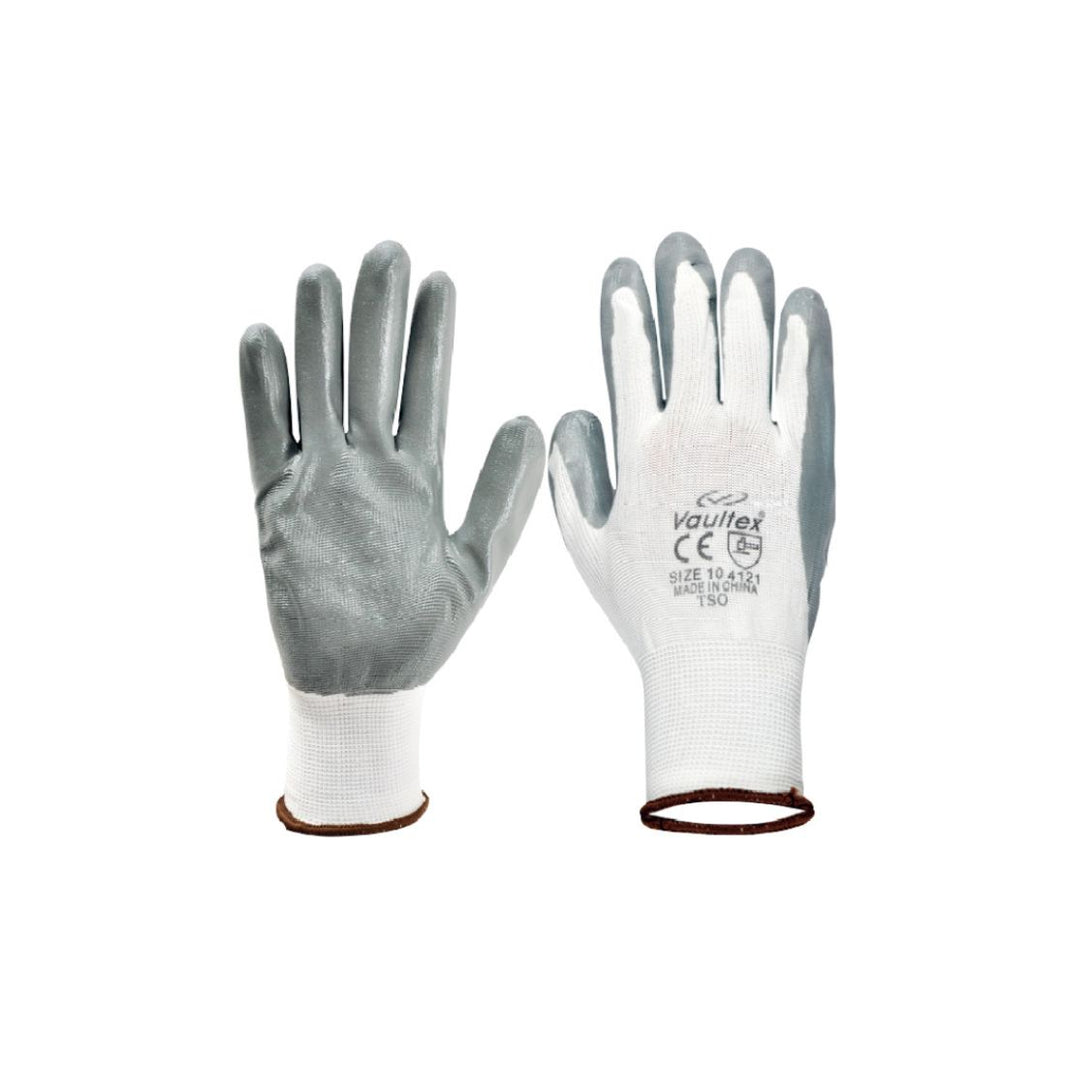 Vaultex TSO Nitrile Coated Gloves - Grey
Delivery by 2-3 Days
Cash On Delivery
7 Days Returnable
15+ Years Of Trust
15+ Branches
Note: This product is a marketplace product, it's availability and delivery time will be inform you, when you place an order or you can check by contacting us through whatsapp or by call.
Description
Specifications
Reviews
Description
Specifications
Reviews
Vaultex TSO Nitrile Coated Gloves are a type of protective gloves commonly used in various industries for a range of applications. Safety Gloves are designed with a seamless knitted liner, which provides a comfortable fit and excellent dexterity. It feature a grey-colored nitrile coating on the palm and fingers, providing enhanced grip and abrasion resistance.

Vaultex safety gloves are made from a combination of synthetic materials. The liner is typically made of nylon or polyester, while the coating is composed of nitrile, a synthetic rubber known for its durability and resistance to oil, chemicals, and punctures.

The nitrile coating on these gloves offers protection against a wide range of substances, including oils, greases, solvents, and certain chemicals. They provide a barrier against these substances, helping to keep hands clean and protected during various tasks. The nitrile coating on the palm and fingers of these gloves enhances grip, allowing for better handling of objects and reducing the risk of slips and drops. 

Vaultex TSO Nitrile Coated Gloves are commonly used in industries such as manufacturing, construction, automotive, warehousing, logistics, maintenance, and general assembly. They are suitable for tasks that involve handling tools, equipment, small parts, and materials where grip, protection, and dexterity are essential.

Features

Polyester Liner, Grey Nitrile Coated Gloves With Smooth Foam Finish
Flexible And Comfortable.
Excellent Breathability.
Lightweight and Good Grip.
Abrasion Resistant.
Anti-Acid and Anti-Alkali.
Brand : Vaultex

Item Name : Nitrile Coated Gloves

Model : TSO

Color : Grey

Material : Nitrile

Application : Automotive and Part Manufacturer, Maintenance, Offshore, Transportation, Utilities.