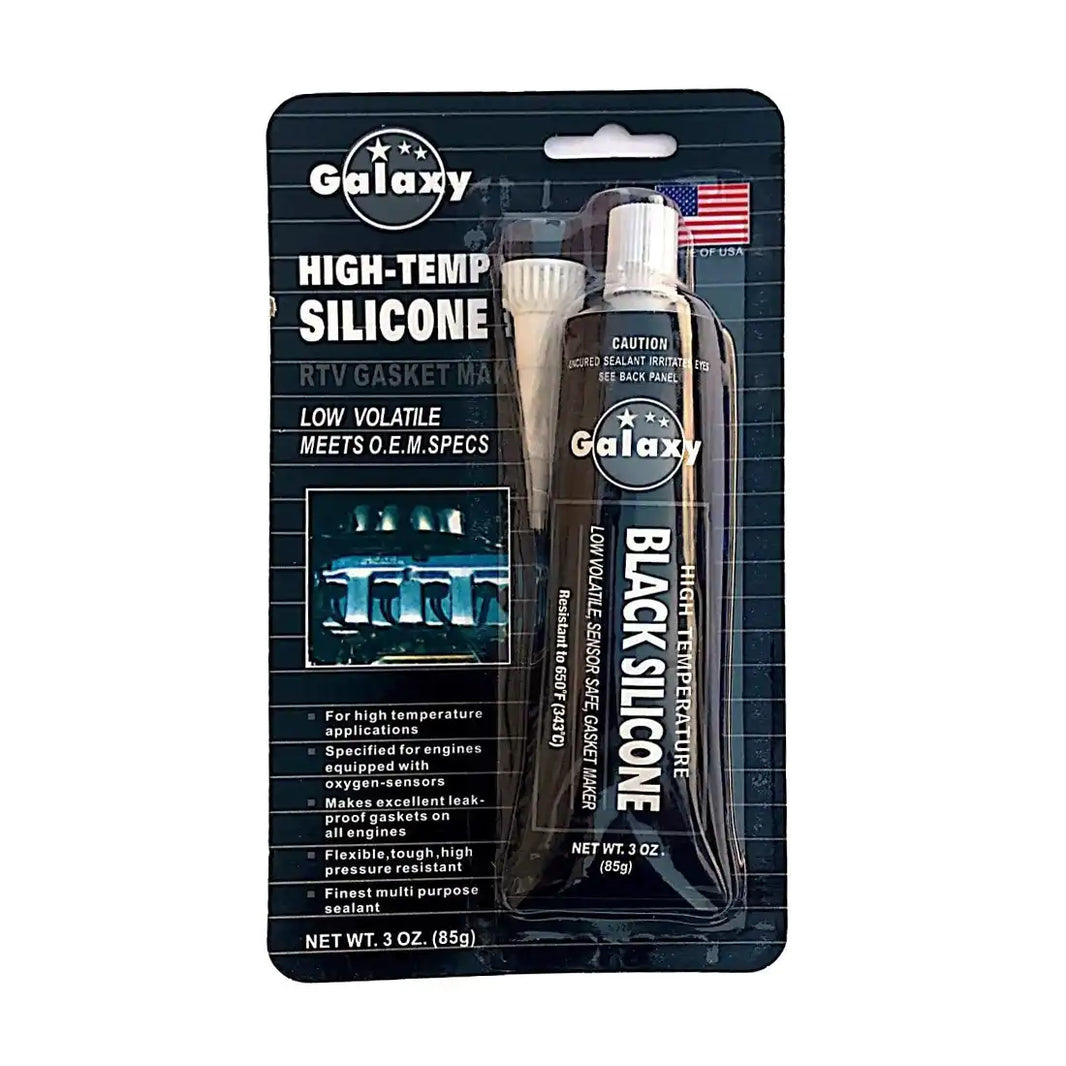 Galaxy High-Temp Silicone RTV Gasket Maker - Black
Cash On Delivery
7 Days Returnable
15+ Years Of Trust
15+ Branches
Description
Specifications
Reviews
Description
Specifications
Reviews
Galaxy High-Temp Silicone RTV Gasket Maker in black is a type of sealant used to create a gasket between two surfaces. It is made of high-temperature silicone rubber and can withstand temperatures of up to 650°F (343°C).

High temp Silicone Gasket Maker replaces most cut gaskets. It forms to any shape instantly and cures fast. The gasket maker resists cracking, shrinking and migration caused by thermal cycling. Suitable for sealing valve covers, timing chain covers, intake manifolds, oil pump flanges, water pumps, transmission pans and differential covers. Dries tough yet flexible. Resists oil, water, anti-freeze and transmission fluid. It is one of the finest multipurpose sealants.

When using Galaxy High-Temp Silicone RTV Gasket Maker, it is important to ensure that the surfaces to be sealed are clean and dry. The sealant can be applied in a bead or a thin layer depending on the application, and then allowed to cure for the recommended time. Once cured, it creates a flexible and durable seal that can withstand the high temperatures and pressures present in the application.

Features

For high temperature applications
Specified for engines with oxygen sensors
Makes excellent leak-proof gaskets for all engine types.
Flexible, strong and resistant to high temperatures
Net Weight: 85g (3oz)
Free of acetic acid and safe for sensors
Instructions for the direction of use are on

Galaxy High-Temp Silicone RTV Gasket Maker label

.
Brand : Galaxy

Type : Gasket Maker

Color : Black

Weight : 85g

Brand origin (Not Made) : USA

Temperature : 650°F (343°C)

Quantity : 1 unit